Shipping Information for our Pecan Nut Gifts
We believe in customer satisfaction
Since 1935 the folks at Priester's have been making the finest pecans, pecan pies, pecan nut gifts and gourmet candies the "old-fashion way" by hand. This commitment to quality in our products extends to our customer service. Just call toll free 1-866-477-4736 or contact us by email customerservice@priester.com if you have any questions or concerns regarding our products.
The Priester's Pecans Guarantee
Every item on our website carries Priester's 100% Satisfaction Guarantee. Each package gives details for carrying out this guarantee if the item for any reason, is received in an unsatisfactory condition.
Please calculate shipping charges per delivery date for each name and address shipped.
Merchandise Cost

For Each Name & Address
Shipped Standard

Up to $19.99

$12.99

$20.00 - $29.99

$13.99

$30.00 - $44.99

$14.99

$45.00 - $54.99

$16.99

$55.00 - $79.99

$21.99

$80.00 - $94.99

$25.99

$95.00 - $124.99

$29.99

$125.00 and Over

23% of Net
Merchandise Cost

For Each Name & Address
Shipped Standard

Up to $19.99

$9.99

$20.00 - $29.99

$10.99

$30.00 - $44.99

$11.99

$45.00 - $54.99

$13.99

$55.00 - $79.99

$16.99

$80.00 - $94.99

$19.99

$95.00 - $124.99

$25.99

$125.00 and Over

23% of Net
Holiday Shipping Cut-Off Deadlines
Orders must be placed by 3:00 p.m. CST to ensure delivery.
We will do our very best to meet your requested arrival date but due to unprecedented increases in online order volumes and carrier delays, we cannot guarantee the exact arrival date.



Holiday
UPS Standard Ground Delivery
Thanksgiving
Thursday, November 23rd
Wednesday
November 15th
Early Christmas
Monday
December 4th
Christmas
Monday, December 25th
Shipping to West Coast and New England
Thursday
December 14th
Christmas
Monday, December 25th
Shipping to Central and Southeast
Friday
December 15th
New Year's Day
Sunday, January 1st
Thursday
December 21st
Thanksgiving- Thursday, November 23rd
Early Christmas
Christmas- Monday, December 25th
UPS Standard Ground Delivery
Thanksgiving, Wednesday November 15th
Early Christmas, Monday December 4th
Christmas:
Shipping to West Coast and New England: Thursday, December 14th
Shipping to Central and Southeast, Friday, December 15th
New Year's Day, Thursday, December 21st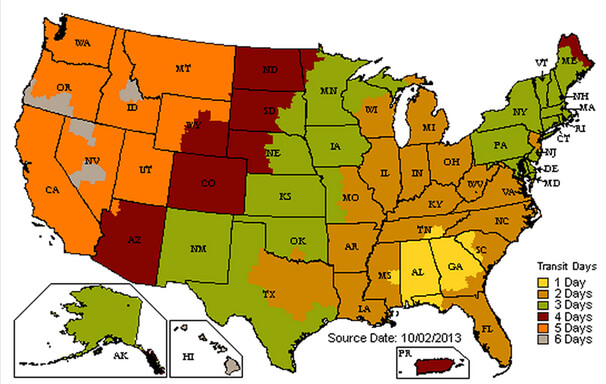 More about shipping from Priester's Pecans
Pecan Shipments. New Crop Pecan shipments from this website will not be made until this year's new crop becomes available (normally, no later than the first week in November.)
Standard Shipping. Shipments to street addresses in the 48 contiguous state up to 5lbs. will go UPS 3-day Service. Shipments over 5 lbs. will go UPS Ground. Orders for prompt delivery will be shipped within 2 business days.
We cannot be responsible for incorrect addresses. We must have current, complete and correct shipping addresses to guarantee delivery. Alaska, Hawaii, Guam and Puerto Rico will be shipped U.S. Postal Priority Air at Standard shipping table rates.
2nd Day Shipping. See shipping table above. 2nd Day upgraded shipments will ship 2 business days after order is received and will arrive via UPS two business days after ship date.
Express Delivery. UPS Next Day Service is available on telephone orders. Call for Details.
Gift Greeting. Your message will be printed on an attractive shipping label (please limit greeting to the space provided.) Personal or Business Cards provided to us will accompany your gift.
Acknowledgements. All orders are promptly acknowledged as they are received. Please keep your acknowledgements for your records.
Credit Card Orders. We process orders immediately; therefore, you may receive your credit card bill before the product has been shipped.
Military APO/FPO. Standard shipping table rate.
US Postal Priority Air (USA). Add $1.50 per item
Substitutions. We reserve the right to make substitutions of equal or greater value when necessary. This still carries our 100% Satisfaction Guarantee.
Changing Your Order. Please do not ask us to change your order unless it is absolutely necessary. It may cause a delay in shipping.
Frequently Asked Questions about Shipping our Pecan Nut Gifts
Do you ship chocolates year round?
No, chocolates are available for shipment October through May.
Do you ship to a P.O. Box?
Yes. When using a P.O. Box, delivery is made by the U.S. Postal Service.
How do I change my address for a catalog?
You can change your address by contacting us via e-mail at customerservice@priester.com or by phone at 1-866-477-4736. Be sure to give your old address as well as the new address.
Yes, all items (except chocolate) are available year round.
How can I be sure that the package will arrive in time for Christmas?
For Christmas arrival on orders placed after December 15th ask for our RUSH delivery.
What are your shipping policies?
Orders are shipped 4 business days after the order is received. Deferred shipments are sent to arrive per your request.
Thank you for ordering from Priester's!