Captain Rodney's Cheese Bake Recipe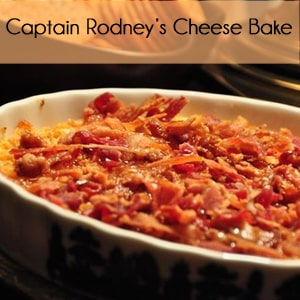 Ingredients:
1/2 cup mayonnaise
8 ounce cream cheese at room temperature
2 cup cheddar cheese grated
2 each whole green onions sliced thin
1/3 cup butter crackers crushed
8 slices bacon cooked and crumbled, or bacon bits
1/2 cup Boucan Pepper Glaze Captain Rodney's Boucan Pepper Glaze or pepper jelly
Directions:
Mix mayonnaise, cream cheese, cheddar and onions in greased quiche pan. Top with crackers and bake at 350 degrees for 15 minutes. Top with bacon and Captain Rodney's Boucan Pepper Glaze. Serve with crackers.