Feed a small army with this cake recipe
This fruit flavored cake made by Melissa Ellis serves a small army, and that seems to be needed for all of the men in Melissa's life. Melissa and Thomas Ellis, owners of Priester's Pecan Company, have three very active, growing young men, hungry for one of Mama's homemade cakes. Then again, Thomas can hold his own with the guys when it comes to sweets!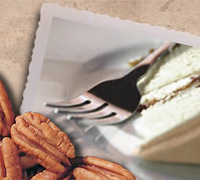 Cake Ingredients:
1 (18.25) package orange or pineapple flavor cake mix
½ cup vegetable oil
4 eggs
1 (11 oz.) can mandarin oranges with juice




Frosting Ingredients:



1 (15-1/4 oz.) can crushed pineapple
1 (16 oz.) carton whipped topping
1 (3.4oz.) box vanilla instant pudding mix
1 cup Priester's Medium Pecan Pieces
Priester's Decorating Pecan Halves (optional)
Extra mandarin orange slices to decorate (optional)
Cake Baking Instructions:
Do NOT follow cake package instructions, except for preheating oven temperature.
In an electric mixer, beat the cake mix, oil, eggs, and un-drained mandarin oranges for 4 minutes.
Prepare 3 layer cake pans with Baker's Joy.
Pour the batter evenly in the 3 pans, and bake in the preheated oven for the time listed on the cake package directions.
Allow cake to cool 15 minutes before turning out of pans; then cool cake completely.
While cake is cooling, drain the pineapple for the frosting using a colander.
Frosting Instructions:
In a large bowl, mix all frosting ingredients with the drained pineapple.
Refrigerate the frosting until cake is cooled.
Frost tops of each cake, and stack the layers; then frost the entire cake.
Decorate the entire cake with pecan halves, and extra mandarin orange slices, if desired.
Refrigerate the cake for several hours before cutting. Keep cake refrigerated.
Can you think of anything that would make your favorite recipe even better by adding Priester's Pecans? We want to try it too and share it with everyone. It's easy to send us your recipe! Enter your recipe.

Fine Fresh Crop In the Shell Pecans >
Fine Fresh Crop In the Shell Pecans are the best in years!

Fancy Natural Pecan Halves >
Choose from Mammoth or Medium Economy Packs.

Fancy Pecan Pieces >
Choose from Small, Medium, Large or Mammoth Pecan Pieces value packages.

Fancy Roasted and Salted Pecan Halves >
Mammoth pecan halves roasted and lightly salted to perfection.