Toasted Pecan Toffee Cookie Recipe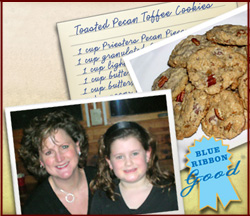 by Laurie Lufkin and daughter Lily
Laurie and her "baking bud" daughter Lily entered our Blue Ribbon Recipe Challenge with this delicious pecan cookie recipe. They were selected as our 2007 Contest Winner. She won an autographed by Mother May of Priester's Dining on the Victorian Verandah Cookbook.
1 cup Priesters Pecan Pieces
1 ½ Cup granulated Sugar
1 ½ cup light brown sugar
1 cup butter flavored shortening
1 cup butter, softened
2 teaspoons vanilla
2 eggs
3 cups all purpose flour
2 teaspoons baking soda
½ teaspoon salt
3 ½ cups old fashioned oats
2 cups crushed Skor candy bars (about 8 1.4oz bars)
1 12 oz bag milk chocolate chips
Preheat oven to 350 degrees. Grease 4 baking sheets. Toast Priesters pecans in the oven for about 8 minutes, shaking pan once half way through. Set aside to cool. Break any large pecan pieces into smaller pieces.
In a mixing bowl, combine with a whisk flour, baking soda and salt and set aside.
Cream butter, shortening and sugars in mixing bowl till light and fluffy.
Add eggs and vanilla till combined, about 1 minute, scraping sides of bowl as you mix.
Add dry ingredients slowly to wet mixture to combine and mix well.
Add oatmeal and mix again till combined.
With a spoon, add in chocolate bits, crushed Skor bars and Priester's pecan pieces. Do not use mixer as it will crush them. Mix well till combined.
Using a medium sized ice cream scoop (about 2 tablespoon or 1 oz size) place cookies on prepared baking sheet, 12 to a sheet. Bake for 10-12 minutes-10 for more chewy cookies and 12 for a more crunchy cookie.
Allow to cool slightly on the pan and then move to a cooling rack.
This recipe makes about 6 dozen cookies and can easily be halved.
Original Recipe from Laurie Lufkin - Essex, Massachusetts
Can you think of anything that would make your favorite recipe even better by adding Priester's Pecans? We want to try it too and share it with everyone. It's easy to send us your recipe! Enter your recipe.